Brand identity is the way a brand is visually communicated, such as using a logo and the consistent use of fonts, colours and graphic elements.
Brand guidelines bring all the design elements together and set out how they should be applied.
JONO Design can create logos, design templates and produce the brand guidelines to ensure that your identity is communicated consistently.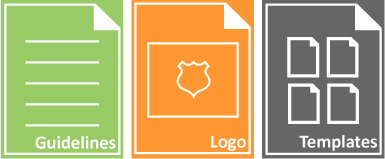 Brand Identity
The brief:
new branding for a church to provide fresh and recognisable graphics; and design of new stationery templates and promotional materials.
The solution:
the new logo is a silhouette of the church roofline, a distinctive feature in the town. The logo is printer friendly for internally produced materials and can be used with colour blocks to produce promotional materials.
Word templates were designed for a letterhead, order of service, newsletter, compliments slip and notices. Large square posters were designed for the church noticeboard.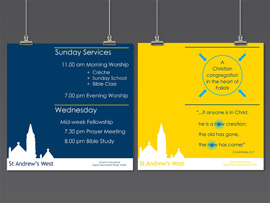 Click on the pictures below for a larger image. Links will open in a new window.
The brief:
develop an online document that can be navigated like a website and can be edited; and design of supporting materials to promote the resource.
The solution:
the document was designed and laid out in MS Word so that the client could edit it and keep it up-to-date in the future. The Word document contains internal hyperlinks and links to other online sites so that, when published as a PDF, it will function like a wesbite.
Circles, icons and colours help the user to navigate the pages of the resource and to provide an identity across the range of project outputs.
The package delivered includes:
> MS Word master version
> PDF version for publication online
> 2m x 1m roll-up banner
> A5 flyer
> four MS Word forms.
The brief:
develop a simple brand for a European Union funded programme to create green infrastructure in urban Scotland.
The solution:
the branding is based on a tartan swatch to identify the programme with Scotland. The tartan pattern illustrates the aim of creating an integrated green infrastructure throughout the urban area, incorporating green and blue spaces and connections.
A logo, colour bar, colour palette and cover layout, together form the key elements of the brand design. In addtion, leaflets and application forms were designed that applied the brand guidelines.
The MS forms contain content control fields, such as drop down lists and text boxes, that control what can be entered and edited. The forms allow applicants to enter information only in certain fields, and provides the completed file in an electronic format.
The branding package delivered includes:
> a logo and other graphic elements
> guidelines on applying the brand
> website design concept and graphics
> templates for a suite of MS Word documents and a letterhead
> an MS PowerPoint template
> A4 tri-fold and A5 leaflets and leaflet templates
> application forms in MS Word with editable fields.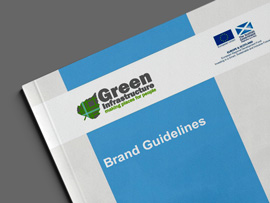 Copyright © 2015-2020 JONO Design.
Designing solutions with Word
enquiries@jonodesign.co.uk